Displaying 1 - 2 of 2 items
THEODORE ROOSEVELT

ON RACE RELATIONS

: "I HAVE APPOINTED A LARGER PERCENTAGE OF COLORED MEN THAN ANY OTHER PRESIDENT."
ROOSEVELT, THEODORE. (1858-1919).  26th President (1901-1909), and first American to be awarded the Nobel Peace Prize (1906). Exceptional Typed Letter Signed "Theodore Roosevelt," as President, on imprinted The White House /Washington stationary. One full page, quarto.
$20,000.00
Full Description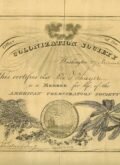 AMERICAN COLONIZATION SOCIETY MEMBERSHIP CERTIFICATE SIGNED

BY HENRY CLAY  ~~ 

ESTABLISHED BY HIM AND OTHERS FOR THE RESETTLEMENT OF FREED SLAVES TO LIBERIA
CLAY, HENRY.  (1777-1852).  American statesman; major promoter of the Missouri Compromise (1820) and the Compromise of 1850, both efforts to shield the American union from sectional discord over slavery.    Scarce, Partially-Printed Document Signed, "H. Clay" as president of the society.  November 27, 1841. One page,  heavy paper stock, oblong folio.  [approx 7 ½ x 12 inches].  
$2500.00
Full Description