Displaying 1 - 2 of 2 items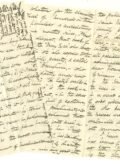 "I…KNOW A GOOD DEAL ABOUT THE NEGROES…
AND MY OBSERVATION SATISFIES ME THAT, LIKE OTHER MEN, THE NEGROES ARE AS THEY ARE TREATED. …
[SOUTHERN PLANTERS] ARE AMAZED AT THE POLITICAL CAPACITY AND THE MORAL GREATNESS EVINCED BY PEOPLE WHOM THEY HAVE BEEN ACCUSTOMED TO CONSIDER LESS THAN HUMAN."
MARTINEAU, HARRIET.  (1802-1876).  English essayist, novelist, journalist, and economic and historical writer who was prominent among English intellectuals of the 19th Century; one of the first female writers to support herself by her own talent; considered the first female sociologist; observed a link between slavery and the oppression of women's rights; considered one of the first feminists. Remarkable Autograph Letter Signed, "H. Martineau".  Eight full pages, small octavo.  Ambleside, January 5, 1866. 
$3500.00
Full Description
THEODORE ROOSEVELT

ON RACE RELATIONS

: "I HAVE APPOINTED A LARGER PERCENTAGE OF COLORED MEN THAN ANY OTHER PRESIDENT."
ROOSEVELT, THEODORE. (1858-1919).  26th President (1901-1909), and first American to be awarded the Nobel Peace Prize (1906). Exceptional Typed Letter Signed "Theodore Roosevelt," as President, on imprinted The White House /Washington stationary. One full page, quarto.
$20,000.00
Full Description