Displaying 1 - 2 of 2 items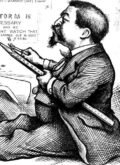 THOMAS NAST ADVISES A CARTOONIST
NAST, THOMAS.  (1840-1902).  American cartoonist and caricaturist, known for his drawings during the American Civil War and Reconstruction periods.  Manuscript Letter Signed, "Th. Nast", on ruled, blind-embossed Francis & Loutrel Extra Superfine stationery.  One page, octavo.  "New York, West 125th St. near 5th Ave.", January 27, 1870. 
$750.00
Full Description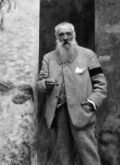 CLAUDE MONET  ~~  ON THE CUSP OF ACHIEVING GREAT SUCCESS AS AN ARTIST,  WRITES:  ~~  "NATURE IS ALWAYS BEAUTIFUL AND IT'S ONLY IN THE WORK THAT IT IS POSSIBLE FOR ME TO FORGET ALL MY WORRIES BECAUSE I AM STARTING TO NOT BE A BEGINNER ANYMORE…"
MONET, CLAUDE.   (1840-1926).  Founding member, and leader in French Impressionist painting movement;  the term: 'Impressionism' is derived from the title of his painting:  Impression, Sunrise.  A sad and somewhat melancholy, yet important, Autograph Letter Signed, "Claude Monet," in French.  3 full pages, large octavo. Vétheuil,  December 30, 1878,  To his patron and collector, Georges de BELLIO. 
$9500.00
Full Description