Displaying 1 - 2 of 2 items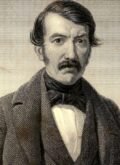 WRITTEN FROM THE INTERIOR OF AFRICA, DR. DAVID LIVINGSTONE
THANKS A YOUNG LADY FOR HER PRAYERS FOR HIS CONTINUED SUCCESS
AND SPEAKS OF HIS CONVERTING THE NATIVE AFRICAN POPULATION TO CHRISTIANITY:   
"PAUL IS ONE OF THE FIRST CONVERTS OF THE KURUMAN [TRIBE] AND LATELY JOINED US.  MELROSE HAS ALWAYS BEEN MY COMPANION A HARD WORKER & AN UPRIGHT MAN."
LIVINGSTONE, DAVID. (1813-1873) Pioneer medical missionary and African  explorer; best known for his explorations and having been 'found' by journalist Henry Stanley.  Important Partial Autograph Letter Signed, "David Livingston".
$6500.00
Full Description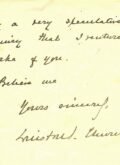 CHURCHILL TO LORD CECIL   ~~  PLANNING THE FUTURE COURSE OF ENGLAND'S AFRICAN COLONIES  —   "[YOU] WOULD BE THE BEST PERSON TO FILL THE GOVERNORSHIP OF BRITISH EAST AFRICA … A VAST NATIVE POPULATION, OF A CONSIDERABLE ASIATIC INFUSION, & OF A SMALL, BUT ALREADY POWERFUL COLONY OF SETTLERS … [WITH] GREAT POSSIBILITIES."
CHURCHILL, WINSTON, S. (1874-1965). Prime Minister. Significant Autograph Letter Signed "Winston S. Churchill", as President of the Board of Trade. 3 ½,  octavo pages on blindstamped "Colonial Office" seal embossed stationary, February 28, 1908.  Marked 'Secret' in Churchill's hand at top. To Lord Robert Cecil, inquiring of him privately if he is interested in the Governorship of British East Africa, now Kenya. 
$23,500.00
Full Description