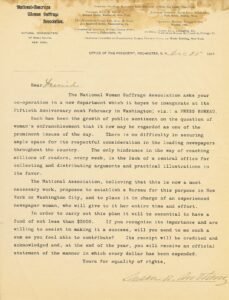 SUSAN B. ANTHONY —  "YOURS FOR EQUALITY OF RIGHTS"
"THE GROWTH OF PUBLIC SENTIMENT ON THE QUESTION OF WOMAN'S ENFRANCHISEMENT…MAY BE REGARDED AS ONE OF THE PROMINENT ISSUES OF THE DAY."
THE NATIONAL AMERICAN WOMAN SUFFRAGE  ASSOCIATION SEEKS FUNDS TO OPEN THEIR OWN PRESS OFFICE
ANTHONY, SUSAN B. (1820-1906).  American woman-suffrage advocate.  Good Typed Letter [mimeographed body text] Signed "Susan B. Anthony" on National American Woman Suffrage Association letterhead, as President of the Association. One full page, quarto. Rochester, N.Y., December 25, 1897.  Light brown toning to very top portion from previous mounting as shown, else very fine condition.  Anthony writes:
"The National Woman Suffrage Association asks your co-operation in a new department which it hopes to inaugurate at its Fiftieth Anniversary next February in Washington viz.: a PRESS BUREAU. Such has been the growth of public sentiment on the question of woman's enfranchisement that it now may be regarded as one of the prominent issues of the day. There is no difficulty in securing ample space for its respectful consideration in the leading newspapers throughout the country. The only hindrance in the way of reaching millions of readers, every week, is the lack of a central office for collecting and distributing arguments and practical illustrations in its favor. The National Association, believing that this is now a most necessary work, proposes to establish a Bureau for this purpose in New York or Washington City, and to place it in charge of an experienced newspaper woman, who will give to it her entire time and effort. In order to carry out this plan it will be essential to have a fund of not less than $3000. If you recognize its importance and are willing to assist in making it a success, will you send to me such a sum as you feel able to contribute? Its receipt will be credited and acknowledged and, at the end of the year, you will receive an official statement of the manner in which every dollar has been expended. Yours for equality of rights, Susan B. Anthony."
A fine item from Anthony's work in the Woman's Suffrage movement.  
$4500.00