A SIMPLY SUPERB LETTER OF F. SCOTT FITZGERALD
"THE FITZGERALDS ARE SLOWLY ROTTING LIKE THE OTHER SURVIVORS OF OUR PERIOD. WE HAD A HELL OF A GOOD TIME WHEN IT LASTED THOUGH, WHICH IS MORE THAN CAN BE SAID OF YOUR GENERATION"
"…AND ARMY PEOPLE, LIKE JEWS, ARE OPPRESSIVE IN CROWDS WITH THEIR DAMNED HIERARCHY…."
FITZGERALD, F(RANCIS) SCOTT.  (1896-1940).  American writer; author of: The Great Gatsby, as well as: This Side of Paradise, The Beautiful and the Damned, and Tender is the Night;  Fitzgerald is best known for chronicling the excesses and tribulations of the Jazz Age.  Superb, and very scarce Typed Letter Signed, "Scott Fitz".  Several minor corrections in his hand.  Two pages, quarto.  "1307 Park Avenue, Baltimore, Maryland", May 14, 1935.  Very fine condition.  To "Dear Verner".  Fitzgerald writes:
 "Thank you for your long interesting letter.  I got more news of Montgomery out of it than all other correspondence put together—but other correspondence usually means Mrs. Sayre's account of her garden and the flowers therein.  It is hard to realize that it's been three years since that gloomy winter.  Since then there have been other winters quite as gloomy but none in which I felt a more vast and helpless impatience.  Something about Montgomery makes me vaguely uncomfortable.  The army people seem to me much more like hostile troops gathered there than like a part of that fierce little town; and army people, like Jews, are oppressive in crowds with their damned hierarchy.  I speak from experience because I was once aide-de-camp to a general and writhed under it.  Zelda has been sick and unproductive since her art exhibit in New York last year.  In fact, the Fitzgeralds are slowly rotting like the other survivors of our period.  We had a hell of a good time when it lasted though, which is more than can be said of your generation.  Why don't you write a comedy about the Little Theatre?  Surely 'The Torch-bearers' isn't the only thing that can be extracted from that racket.  With best wishes to you and to all whom I know including Mesdames Read, McKinney and LeGrand.  Ever yours, Scott Fitz".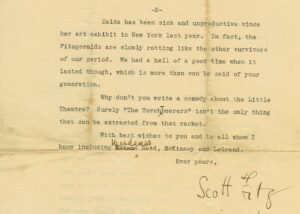 Fitzgerald's letters, simply don't get much better than this!   And… while good books appear to be plentiful, letters of this quality rarely appear on the market.  One of our:  "Best of the Best". 
$28,500.00