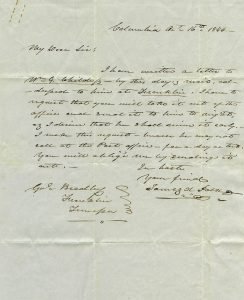 POLK, JAMES K.  (1795-1948)  President of the United States.  Uncommon Autograph Letter Signed, "James K. Polk." One page, quarto. "Columbia" "Oct[ober] 16th, 1844." Addressed on integral leaf to "Genl. Thomas H. Bradley, Franklin, Williamson County, Tennessee."  With "Columbia Tenn" postmark and straight "paid" cancellations.  Polk writes:
"My dear Sir I have written a letter to Wm. G. Childress  by this day's mail, addressed to him at Franklin. I have to request that you will take it out of the office and send it to him to night, as I desire that he shall receive it early. I make this request because he may not call at the Post office for a day or two. You will oblige me by sending it out. In haste, Your friend   James K. Polk."
Bradley, a veteran of the Second Seminole War, was at this time most likely helping Polk in his ultimately successful presidential campaign. Bradley established a large plantation in Arkansas on the bank of the Mississippi during the year prior to the American Civil War.  In1861, he was elected to the Arkansas Secession Convention and went on to serve as brigadier general of Arkansas state troops.   The W[illia]m Childress to whom Polk refers in the letter, was probably a relative of his wife, Sarah Childress Polk.  He defeated Whig candidate Henry Clay in the close Presidential contest of 1844, mostly turning on the controversial issues of slavery and the annexation of the Republic of Texas.  Overall excellent condition, and a boldly penned example.  Attractive one pages examples that are uncomplicated in terms of condition and faults are difficult to find.  An excellent item for the collector of presidential material.
$3000.00