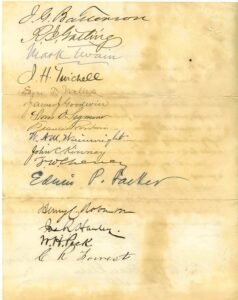 MARK TWAIN AND HIS FELLOW HARTFORD, CONNETICUT CITIZENS ARRANGE A LECTURE ON MADAGASCAR
CLEMENS, SAMUEL L. [MARK TWAIN].  (1835-1910.)  American humorist, lecturer and writer.  Manuscript Letter Signed, "Mark Twain",  in committee and by other prominent Connecticut residents. Two pages, quarto. Hartford, October 9, 1884. To "Lieut. Mason A. Shufetde, U.S.N."  Some toning and staining, else near fine condition.  The document reads:
"Dear Sir, Assured that some account from you of your secret visit to Madagascar, – of the Island, its Lueen, its people, and its natural productions, and especially of your own remarkable journey across the island, – would be as highly interesting to many others in this city as, certainly, it would be to ourselves, we cordially invite you to favor us with a lecture, in this city, whenever, and as soon as, may be convenient to yourself. With the expression of our high appreciation of the service you have rendered to geographical science, – and not unmindful of practical results to which your successful mission may lead, to the mutual advantage of the United States and of Madagascar, we are,  Yours truly,

M.G. Bulkeley         [Hartford Mayor 1880-88, Governor of Connecticut 1889-93; U.S. Senator 1905-1911]

Hammond Trumbull  (President of Connecticut Historical Society), [First Connecticut  State Librarian, elected into the National Academy of Sciences]

William B. Franklin [Civil War Maj. Gen., Commanded Union troops at 1st Bull Run, Fredricksburg, and the Red River Campaign]

J.N. Brach

W. Hameeroby

J.L. Battenvore

R.J. Gatling          [American inventor who created the "Gatling gun"]

Mark Twain

J.H. Turchell

Edgar T. Walles

James J. Goodwin  [Financier and cousin of J.P. Morgan]

Storrs O. Seymour   [Connecticut Judge]

Francis Pruvdurm

W.A.W. Wainwright

John C. Kinney     [Union Major in Civil War, helped revive Society of Cincinnati in Connecticut]

Edwin P. Packer

Jack Stanly

W.H. Peck

L R Forrest"
An enlightening grouping of Hartford society, arranging to hear Shufetde's lecture on Madagascar.  A truly unique assemblance of 19th century personalities! And a most unusual type and format in which to find Clemens participating with the added addition of Gatling, Franklin and the others!  
$5350.00