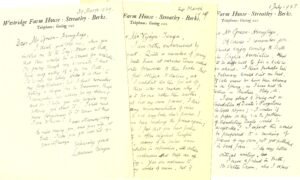 LAURENCE BINYON
A FINE, REVEALING ARCHIVE OF 6 LETTERS
"THERE ARE TECHNICAL FLAWS: YOU SEEM TO ME TOO OFTEN TO HOVER BETWEEN FREE VERSE AND METRE; BUT IN THESE DAYS TECHNICAL ACCOMPLISHMENT IS SO MUCH AT A DISCOUNT THAT THIS WILL PROBABLY NOT BE NOTICED.  I FEEL THAT YOU HAVE A TRUE POET'S SENSIBILITY AND LYRICAL IMPULSE, AND SOME OF THE POEMS ARE ORIGINAL IN THOUGHT AND IMAGERY''
'I AM ABOUT TO BRING OUT A TRANSLATION OF DANTE'S PURGATORIES IN TRIPLE RHYME; AND I WONDER IF A PAPER ON THIS AND ON THE PROBLEM OF TRANSLATING DANTE WOULD BE ACCEPTABLE? '
'AS I CAN'T SELL MY OWN POEMS, I DON'T SUPPOSE ANY RECOMMENDATION OF MINE IS LIKELY TO SELL ANYBODY ELSE'S'
BINYON, LAURENCE.  (1869-1943).  British poet and art critic;   best known for his poem "For the Fallen," written at the onset of World War I; Binyon also wrote and translated verse drama and worked as an art historian. Fine group of six Autograph Letters Signed, "Laurence Binyon", on his imprinted Westridge Farm House, Streatley, Berks. Telephone: Goring 100 stationery.  Eight total pages, octavo.  Berkshire, England, May 27, 1938 to March 30, 1939.  Very fine condition.  To Mr. Vijaya-Tunga and Mr. Green-Armytage.  Binyon writes:
[May 27, 1938] "Dear Sir, I am very much occupied, but will find time to read your poems if you will send them.  Yours sincerely, Laurence Binyon.  [P.S.] I return Mr. Bax's letter."

[June 1, 1938] "Dear Mr. Vijaya-Tunga, I have been reading your poems.  It is true, as you say, that there are technical flaws: you seem to me too often to hover between free verse and metre; but in these days technical accomplishment is so much at a discount that this will probably not be noticed.  I feel that you have a true poet's sensibility and lyrical impulse, and some of the poems are original in thought and imagery.  You do not seem to echo others, and I think you feel strongly and deeply.  With all good wishes, yours sincerely, Laurence Binyon".

[July 1, 1938] "Dear Mr. Green-Armytage, Of course I remember you.  I should enjoy coming to Bath for the English Association, though it is difficult to fix a date so far ahead.  I think perhaps late in February would suit me best.  Of late years we have been abroad in the spring, as I have had to lecture in Austria, Italy, etc.  I am about to bring out a translation of Dante's Purgatories in triple rhyme; and I wonder if a paper on this and on the problem of translating Dante would be acceptable?  I expect this would be preferred to a reading of poems of my own, not yet published in book form.  I do very little critical writing.  I have a friend in Bath, Mr. Walter Crum, who I expect could put me up for the night.  I know the E.A. is not usually rolling in funds.  Could it spare of fee of 2 or 3 pounds?  Yours sincerely, Laurence Binyon

[July 7, 1938] "Dear Mr. Green-Armytage, I would really prefer to read my poems, but thought they might not be acceptable.  Dante, of course, is not strictly a subject for the English Association.  But I would be glad to read a few passages for my translation.  I note the day you have chosen, Feb. 17.  We have not seen Denis for a long time; he is still at Leeds.  Nicolette is about to publish a book on Victorian Typography, of all things, but has managed to make it quite amusing.  Yours sincerely, Laurence Binyon".

[March 24, 1939] "Dear Mr. Vijaya-Tunga, I am rather embarrassed by your request.  Quite a number of young Indian poets have at various times asked me to write forewords to their books.  But I have felt obliged to decline, as obviously I couldn't do this for all of them and there was no reason why I should do it for one rather than another.  (As I can't sell my own poems, I don't suppose any recommendation of mine is likely to sell anybody else's poems.)  I have been reading the poems again; and while I feel that you have poetic sensibility and often original thoughts and fancies, many of the pieces seem to me tentative in expression, with certain technical weaknesses that trip one up in reading.  You are welcome to quote any words of mine, but if I were to break my rule about writing a foreword, I could only do it for some very special reason; and these poems do not supply that reason.  I am genuinely sorry that I don't feel able to do as you ask, though I think you exaggerate the value of any foreword I could write.  I would write more in detail but have got a chill and headache and feel stupid.  I will send the poems tomorrow as I cannot get to the post-office today.  Sincerely yours, Laurence Binyon".

[March 30, 1939] "Dear Mr. Green-Armytage, I think you told me, when you invited me to the Eng. Assoc. at Bath, that there would be a small fee available.  On going through my accounts I don't find any entry of a fee from Bath.  It's only too likely it is due to my forgetfulness; but I don't remember getting a cheque from the Treasurer, though I remember his asking for my address, and so I hope you will forgive my bothering you about it.  I shall need more forgiveness if it turns out that I am to blame!  I was extremely sorry to miss seeing you, and your wife, at Bath.  I hope you get well rid of your influenza.  Sincerely yours, Laurence Binyon".                                                                                                           
Very fine condition through out.  Letters of this frank quality are not often encountered.
$4800.00