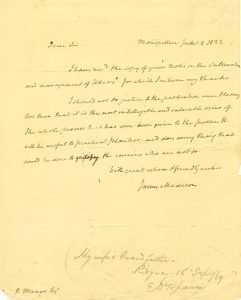 "YOUR NOTES ON THE CULTIVATION AND MANAGEMENT OF TOBACCO…IS THE MOST INTELLIGIBLE AND VALUABLE VIEW OF THE WHOLE PROCESS THAT HAS EVER BEEN GIVEN TO THE PUBLIC."
MADISON, JAMES (1751-1836). Fourth President of the United States (1809-1817).  Interesting Autograph Letter Signed, "James Madison".   One page, quarto. Montpelier [Virginia], June 3, 1822, to Peter Minor, who published the treatise: Notes on the Cultivation and Management of Tobacco: From the Plant Bed to the Prize just a few months prior to Madison's letter.   Madison sends his hearty approval to Minor and remarks on the high quality and value of the work,  he writes:
"Dear Sir, I have rec'd the copy of your notes on the cultivation and management of Tobacco for which I return my thanks. I should not do justice to the publication were I to say less that that it is the most intelligible and valuable view of the whole process that has ever been given to the public. It will be useful to practical planters and does every thing that could be done to satisfy the curious who are not so. With great esteem & friendly wishes, James Madison"
A previous owner has penciled a notation: "My wife's Grandfather" and other information, giving provenance /background to the letter on the blank lower margin, else very fine condition.  The cultivation of Tobacco was central to the economy of the early colonies and of the foundling United States, and despite it's agricultural and economic importance, letters from the Founding Fathers on this topic are quite uncommon.   Madison's acknowledgement of the fact of it's economic importance is clearly illustrated by the content of this letter.    Very fine condition.   A  fine choice for inclusion in a set of Presidential letters. 
$6500.00