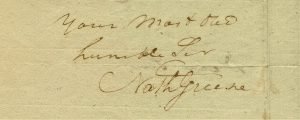 SCARCE ALS OF GEORGE WASHINGTON'S MOST TRUSTED MAJOR GENERAL   —  SENDING A LETTER OF RECOMMENDATION FOR A PRINCETON GRAD WHO WAS TO STUDY WITH GEORGE WYTHE
GREENE, NATHANAEL.  (1742-86).  Major General of the Continental Army in the American Revolutionary War; he emerged from the war with a reputation as General Washington's most talented and dependable officer, and is known for his successful command in the southern theater of the war.  Scarce Autograph Letter Signed, "Nathanael Greene".  Two pages, quarto.  Savannah, April 13, 1786.  Traces of mounting, ink a tad light, else very fine condition.  Addressed on integral address leaf to "General Spotswood, Fredericksburg, Virginia".  Greene writes: "This will be handed you by Mr. Clay, son of a gentleman of fortune and distinction in this State.  He was educated at Princeton College and is going to study the Law under Mr. Withe [sic—George Wythe  — Signer of Declaration of Independence, then serving as judge on the Virginia High Court of Chancery].  I beg leave to introduce him to your friendship and civilities.  You will find him deserving the attention you may honor him with.  I am dear sir, with esteem, Your most obedient humble servant, Nathanael Greene".
The "Mr. Clay" referred to is certainly Joseph Clay, who became an eminent lawyer and sat as a member of the Georgia Convention of 1798.  He was influential in framing the Georgia State Constitution.
$3500.00