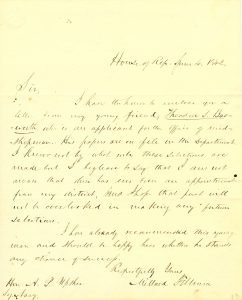 FILLMORE TO UPSHER, SEEKING A MIDSHIPSMAN APPOINTMENT FOR A CONSTITUENT 
FILLMORE, MILLARD. (1800-1874).  Thirteenth President of the United States.  Attractive, boldly penned Autograph Letter Signed, "Millard Fillmore", as Congressman. One full page, quarto. "House of Rep[resentatives]" [Washington, D.C.].   June 4, 1842.  To ABEL P. UPSHUR, Secretary of the Navy. [Upshur, while aboard the battleship, Princeton, on the Potomac River in Washington, DC,  was killed by the firing and accidental explosion of one of the ship's guns.]  Extremely fine condition.  Fillmore writes, in hopes to procure an appointment:    
"Sir, I have the honor to enclose you a letter from my young friend, Theodore S. Bosworth, who is an applicant for the office of midshipman. His papers are on file in the Department. I know not by what rule these selections are made but I beg leave to say I am not aware that there has ever been an appointment from my district, and I hope that fact will not be overlooked in making any future selections.  I have already recommended this young man and should be happy hear whether he stands any chance of success. Respectfully yours, Millard Fillmore."
An excellent letter for the collector, wishing a good example of Fillmore, for their set of Presidents. 
$1500.00