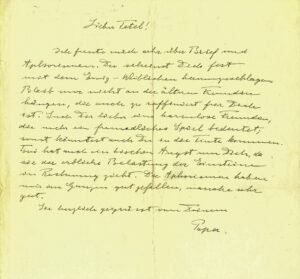 EINSTEIN TACKLES ONE OF THE GREATEST UNSOLVED MYSTERIES OF 'MAN'-KIND!
THE 'EQUATION'  OF "WOMEN"  ~ AS EXPLAINED BY ALBERT EINSTEIN TO HIS SON 
'YOU SEEM TO KEEP KNOCKING ABOUT WITH THE ETERNAL-FEMININE.' 
"DON'T STICK WITH THE OLDER GIRLFRIEND… RATHER LOOK FOR A HARMLESS GIRLFRIEND, BECAUSE SHE IS MORE LIKE A FRIENDLY GAME, OTHERWISE YOU MAY WELL GET INTO TROUBLE"
EINSTEIN, ALBERT.  (1879-1955)  German physicist.  Revealing Autograph Letter Signed, "Papa", in German.  One full page, oblong quarto.  No place, no date.  Very fine condition.  To his son, Tetel.  Einstein writes:
"Dear Tetel,  I was very happy about your letter and about your aphorisms.  You seem to keep knocking about with the Eternal-Feminine.  But don't stick with the older girlfriend, who is also too sophisticated for you.  Rather look for a harmless girlfriend, because she is more like a friendly game, otherwise you may well get into trouble.  Toni worries about you a little bit as well, because she is taking the hereditary taint of the Einsteins into account.  I liked the aphorisms in all, some of them are very good.  Lots of love from Your  Dad".
While we've approached titling the description of this letter somewhat tongue-in-cheek, we take a far more serious position when we say that this letter gives a most remarkable insight into Einstein's approach to women, and his underling psychological attitude towards them.  
Einstein was married twice, and had at least 10 girlfriends / affairs.  His first marriage to Mileva Maric, ended after 16 years together and 2 sons, when he was found cheating with his cousin, Elsa, whom he then married.  He then proceeded almost immediately to have another affair with his secretary, Betty Newman.  
Einstein's somewhat cavalier attitude is shown here, and yet he exhibits and offers obvious caring paternal advice to his son in dealing with the complex calculations of interpersonal relationships.  His allusion to the "hereditary taint of the Einstein's" just further acknowledges his awareness of his own faults.  A remarkable letter that would certainly be a highlight in any collection, while also being the center of conversation whenever seen or exhibited!  
$57,500.00