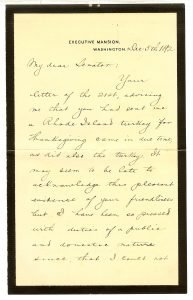 HARRISON, BENJAMIN. (1833-1901).    23rd President of the United States (1889-1893). Manuscript Letter Signed, "Very truly yours, Benj. Harrison,", as President,  on imprinted Executive Mansion, Washington black-bordered mourning stationery. [Harrison's first wife had died on October 5th].  Two pages, octavo.  December 5, 1892.  To "Hon. Nathan Dixon,  U.S. Senate". Accompanied by a handsome line engraving of Harrison by H.B. Hall's Sons, New York.    The letter reads:  
"My dear Senator: Your letter of the 21st, advising me that you had sent me a Rhode Island turkey for Thanksgiving came in due time. As did also the turkey. It may seem to be late to acknowledge this pleasant evidence of your friendliness but I have been so pressed with duties of a public and domestic nature since, that I could not do so sooner I hope to have the pleasure of seeing you aoften during the winter.   Very truly yours,   Benj. Harrison "
Harrison's presidency was transitional; issues that faced colonial America were still germane, but Harrison also faced issues that plague Presidents today. During his single term, he brought six states into the union, more than any other president in a single term. Harrison was also one of the first American presidents to succeed in foreign policy and matters beyond our shores. Relations with Central America were established during his presidency, and he established the nation as a player in global trading as well. This growth lead to tariff issues, issues that plagued Harrison during his term in office and lead party leaders to abandon him following numerous Republican losses in the 1890 Congressional elections. Compounding Harrison's political dilemmas was the very recent death of his first wife, Caroline, on October 25 from tuberculosis. The recipient of this letter, Nathan Dixon, was a member of the Rhode Island Senate from 1885 to 1889, and was elected as a Republican to the U.S. Senate to fill the vacancy caused by the resignation of Jonathan Chace and he served from 1889 to 1895.  Dixon was not a candidate for re-election. For the collector of Presidential letter's, this is a fine example for inclusion, as this version of the black-bordered Executive Mansion stationery is rarely encountered, and the content is revealing as to Harrison's personal character.  
$1395.00