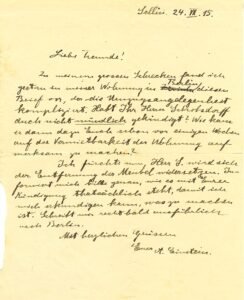 ALBERT EINSTEIN  ~~  WRITING  IN THE YEAR [1915] OF GENERAL RELATIVITY
EINSTEIN,   ALBERT (1879–1955).  Theoretical, Nobel Prize winning physicist.   Scarce, early, Autograph Letter Signed, "A. Einstein".  Sellin, [Germany]  July 24, 1915.  To "dear Friends". [Wander and Gertruida de Haas.  He was a Dutch physicist and mathematician.  Best know for his: Shubnikov-de Haas effect, de Haas-van Alphen effect and the Einstein-deHaas effect].  Minor loss of paper in left lower margin, [when letter was opened], else very fine condition.     Einstein writes:
"To my great dismay I found yesterday this letter in my flat in Berlin, which complicates the matter of the move considerably.  Did you not even give verbal notice to Mr. Schrobsdorff?  How could he then, already some weeks ago, point out to you the availability of the flat?

I am afraid Mr. S[chrobsdorff] will object to having the furniture removed.  Please keep me informed of all the actual circumstances of your having given notice, so that I can investigate what can be done about it.  Please write to me soon and in detail to my Berlin address.  With kind regards, Yours, A. Einstein".
To put this letter into context: Two days before this, Einstein had returned to Berlin to attend a meeting of the Prussian Academy, wherein the idea of expelling French [and other] corresponding members of the Prussian Academy had been discussed.   The architect Albert Schrobsdorff [referenced above] had been the landlord of the de Haas's at 96 Kaiserdamm in Berlin-Charlottenburg, but the de-Haas's had left prior to their rental contract expiring, and Einstein had offered to help in arranging the move of their household items from Berlin to the Netherlands.     At this time, Einstein was at the beach resort town of Sellin doing, his final revision on his "Theory of General Relativity" [Die Grundlage der allgemeinen Relativitatstheorie], that was to be published in November of 1915.   Letters from this early period of Einstein's life, especially those written in the same year as his 'Theory of General Relativity',   rarely appear for sale.  
16,500.00