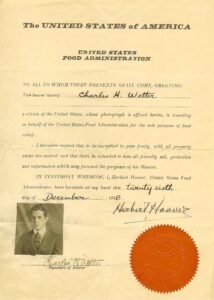 A RARE FORM OF GOVERNMENTAL 'PASSPORT' ISSUED AFTER THE CONCLUSION OF WWI AND JUST PRIOR TO THE UNITED STATES FOOD ADMINISTRATION EFFORTS IN EUROPE
HOOVER, HERBERT. (1874-1964).  31st President of the United States. Partially Printed Document Signed, "Herbert Hoover", as administrator of the United States Food Administration.  One page, large quarto. No place, but with with "American Legation, Berne, Switzerland" seal affixed at lower right.   December 26, 1918. Photo of Wetter attached. The document reads, in part:
"…TO ALL TO WHOM THESE PRESENTS SHALL COME, GREETINGS: The bearer hereof Charles H. Wetter…is traveling in behalf of the United States Food Administration for the sole purpose of food relief. I therefore request that he be permitted to pass freely, with all property under his control …"
President Woodrow Wilson appointed Hoover to head up the U.S. Food Administration (1917).  In a symbolic move to demonstrate the personal sacrifice required by all Americans, Hoover refused to take a paid salary. Hoover's name quickly became synonymous with U.S. efforts to redirect food resources to feed the millions of soldiers preparing to be deployed to Europe and concurrently contribute vital foodstuffs to America's allies. Espousing that "food will win the war," Hoover once again tapped into feelings of patriotic self-sacrifice to encourage Americans to conserve, avoid waste, and limit consumption of various food products. To "Hooverize" became a catchphrase used amongst Americans when discussing food preservation efforts. [https://encyclopedia.1914-1918].
However, The United States Food Administration was rendered obsolete by the armistice in Europe. President Woodrow Wilson promoted its transition in a new agency for the support of the reconstruction of Europe. It became the American Relief Administration, approved by an Act (Public, No. 274, 65th Congress) on February 25, 1919.
This document falls in the middle of the two programs.  In our decades of experience, we have not seen another like it.  Fine condition.               
 $950.00