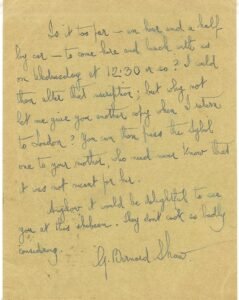 CHARMING LETTER OF GEORGE BERNARD SHAW OFFERING TO INSCRIBE A SECOND COPY OF HIS BOOK, BECAUSE OF A MISTAKE IN THE PRESENTATION OF THE FIRST, AND SAYING: ''YOU CAN THEN PASS THE SYBIL ONE TO YOUR MOTHER, WHO NEED NEVER KNOW THAT IT WAS NOT MEANT FOR HER''!
SHAW, GEORGE BERNARD.   (1856-1950).  Irish-born writer;  in 1925 was awarded the Nobel Prize in Literature.  Good Autograph Note Signed twice, "G. Bernard Shaw" and "Bernard Shaw", on a "Republique Francaise Carte Postale" post card.  Cape Antibes, July [?] 1928.  Fine condition.  Addressed, in Shaw's hand, to "The Viscountess Rhondda, [Sybil Margaret Thomas, Viscountess Rhondda, DBE, was a British suffragette, feminist, and philanthropist]. Villa des Rochers Rouges, Agay (Var)", with his name written again in the return address.   Shaw writes:
"Is it too far—an hour and a half by car—to come here and lunch with us on Wednesday at 12:30 or so?  I could then alter that inscription; but why not let me give you another copy when I return to London?  You can then pass the Sybil one to your mother, who need never know that it was not meant for her.  Anyhow it would be delightful to see you at this shebeen. [an illicit bar where alcohol is sold without a license].   They don't cook so badly considering.  G. Bernard Shaw".
$795.00