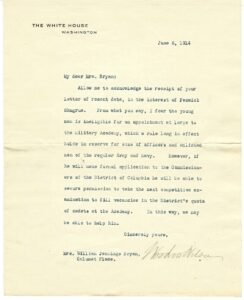 WOODROW WILSON AS PRESIDENT
 TO MRS. WILLIAM JENNINGS BRYAN REGARDING AN APPOINTMENT TO WEST POINT
WILSON, (THOMAS) WOODROW. (1856-1924). Twenty-eighth President of the United States (1913-1921). Typed Letter Signed, "Woodrow Wilson", as President, on The White House stationery. One full page, small quarto. Washington, DC, June 6, 1914.  To the wife of the Populist Democrat and three time presidential candidate, William Jennings Bryan. Wilson tries to help Mts. Bryan in regards to an appointment for the Military Academy, but regrets the man she is inquiring about is not eligible for an appointment at large.  Wilson writes:
"Allow me to acknowledge the receipt of your letter of recent date, in the interest of Fenwick Shugrue. From what you say, I fear the young man is ineligible for an appointment at large to the Military Academy, which a rule long in effect holds in reserve for sons of officers and enlisted men of the regular Army and Navy. However, if he will make formal application to the Commissioners of the District of Columbia he will be able to secure permission to take the next competitive examination to fill vacancies in the District's quota of cadets at the Academy. In this way, we may be able to help him.  Sincerely yours, Woodrow Wilson."
An especially choice letter for the collector with an interest in West Point, or the military academies in general.   Choice name association of writer and recipient.  Very fine condition.
$950.00