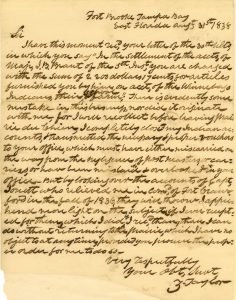 ZACHARY TAYLOR WRITES FROM TAMPA BAY ABOUT HIS DEALINGS WITH THE WINNEBAGO INDIANS AND THEIR SCHOOL FARM
TAYLOR, ZACHARY.  (1784-1850).  Twelfth President of the United States (1849-1850).  Scarce Autograph Letter Signed, "Z. Taylor".  One full page, quarto.  "Fort Brooke, Tampa Bay, West Florida", August 31, 1838.  Laid to a larger leaf, with recipient's name removed, else fine condition.  To "Sir".  Taylor writes:
"I have this moment rec'd your letter of the 30th ult., in which you say in the settlement of the accounts of Major J.B. Brant of the 5th Infantry, you are charged with the sum of 2200 dollars 17 cents for articles furnished you by him on account of the Winnebago Indians, their school farm.  There is evidently some mistake in this business, nor did it originate with me, for I well recollect before leaving Prairie du Chien [Wisconsin]… I completely closed my Indian accounts, and transmitted the company and proper vouchers to your office, which must have either miscarried on the way from the negligence of postmasters, or carriers, or have been mislaid and overlooked in your office.  But by looking over the accounts of Captain Jouett who relieved me in command of Fort Crawford in the fall of 1836, they will throw I apprehend more light on the subject.  If I ever receipted for them, which I did if I received them, then I can do without returning to the prairie, which I have no objection to at anytime, provided you have proven this proper order for me to do so.  Very respectfully, your obedient servant, Z. Taylor".
Zachary Taylor had a distinguished military career.  In 1812, he held Fort Harrison on the Wabash against Indian attack, and in 1832 fought with Black Hawk.  In 1836, he was ordered to Florida, and in 1837, defeated the Seminoles at Okeechobee Swamp, winning the brevet rank of Brigadier-General.  Anything written by Taylor from this period in his career, and from Florida in particular, is quite scarce.  A fine, boldly written example. 
$5750.00