Displaying 1 - 2 of 2 items
MAX NORDAU REFLECTS ON ZIONISM: THERE IS ONE THING [THAT] RECONCILES THE LESS PLEASANT FACT OF GETTING OLDER: THAT IS THE KNOWLEDGE THAT ONE HAS NOT LIVED THE PAST YEAR SOLELY FOR ONESELF, BUT RATHER IN THE TRUE FULFILLMENT OF DUTY FOR OTHERS, FOR THE ENTIRE [JEWISH] PEOPLE .
NORDEAU, MAX. (1849-1923). Zionist leader; born Max Simon Sudfeld; early Jewish nationalist who was instrumental in establishing recognition of Palestine as a potential Jewish homeland. Scarce Typed Note Signed, "Dr. M. Nordeau," in German, on a 10 centime French postcard. Julloville. August 2, 1902.
$695.00
Full Description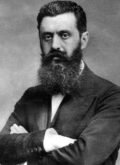 RARE LETTER FROM THE FOUNDER OF MODERN ZIONISM, THEODORE
HERZL,  WHO WANTS TO ESTABLISH INDUSTRIAL PROJECTS IN
PALESTINE AND TO MAKE THIS EFFORTS KNOWN
AMONG THE VARIOUS ZIONIST ORGANIZATIONS
HERZL, THEODORE.  (1860-1904).  Founder of the Zionist movement, whose advocacy of a Jewish state in Palestine led to the creation of Israel.  Rare Typed Circular Letter Signed, "Herzl", in German.  One page, quarto.  Vienna, December 30, 1900.  Very fine condition. 
$4500.00
Full Description