Displaying 1 - 1 of 1 items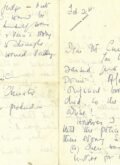 AGATHA CHRISTIE ADAPTS HER NOVEL ORGINALLY PUBLISHED IN 1939 BY
'THE CRIME CLUB' AS: TEN LITTLE NIGGERS,
AND SUBSEQUENTLY RENAMED:
AND THEN THERE WERE NONE, FOR THE STAGE 
~~  BUT CURIOUSLY THIS BOOK ALSO APPEARED TITLED AS: 'TEN LITTLE INDIANS' IN AMERICA
CHRISTIE, DAME AGATHA.  (1890-1976).  English writer of mystery novels. Important Autograph Letter Signed, "Agatha Christie," on her imprinted Greenway House stationery. Four full pages, octavo. "Churston Ferrers, South Devon," February 21, no year.
$8500.00
Full Description