Displaying 1 - 2 of 2 items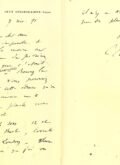 CAILLBOTTE TO MONET  ~~ 
ADVISING HIS FRIEND WHERE TO OBTAIN NEW FLOWERS AND SEEDS FOR CULTIVATION AT HIS FAMOUS GARDEN AT GIVERNY!
CAILLEBOTTE,  GUSTAVE.  (1848 –1894) French painter who was a member and patron of the Impressionists, although he painted in a more realistic manner than many others in the group;  known for his early interest in photography as an art form.  Exceedingly-rare, and a choice association Autograph Letter Signed, "G. Caillobotte", on his imprinted Petit Gennevilliers (Seine) stationery.  1 1/3 separate pages, [written on the 1st and 3rd pages, so when open displays wonderfully].  Paris, November 7, 1891.
$4500.00
Full Description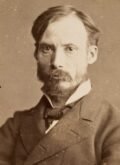 RENOIR TO HIS SON  —  "IT ISN'T WORTH IT TO BURDEN YOU WITH THE TWO CANVASSES I WAS TALKING ABOUT…GO BY DURAND- RUEL [HIS PARIS ART DEALER] WHO HAS PHOTOGRAPHS OF '

THE NURSING CHILD

',  ASK HIM FOR ONE."
RENOIR, PIERRE-AUGUSTE. (1841-1919). French painter. Good Autograph Letter Signed, "Renoir", in French, on imprinted LES COLLETTES / CAGNES (A.M.) stationery. Two full pages, octavo. "12 September 1914" To his son, JEAN RENOIR.
$7500.00
Full Description