Displaying 1 - 1 of 1 items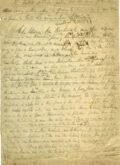 KING KAMEHAMEHA IV  ~~ 
HIS AUTOGRAPH TRANSLATION OF THE "PRAYER FOR ALL ESTATES OF MEN," LIKELY A WORKING MANUSCRIPT FOR HIS 1862 SELF-TRANSLATED BOOK OF COMMON PRAYER,
THE FIRST IN THE HAWAIIAN LANGUAGE!
KAMEHAMEHA IV.  (1834-1863) Fourth king of the united Kingdom of Hawaii (1855-1863). Exceedingly-rare Autograph Manuscript, in pencil, Unsigned. One page, full legal folio. [Approximately 8 ½ x 12 inches] No place [Hawaii] No date [circa 1862].
$16,500.00
Full Description