Displaying 1 - 1 of 1 items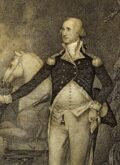 GEORGE WASHINGTON   —  AS COMMANDER-IN-CHIEF OF THE AMERICAN REVOLUTIONERY ARMY DECLARES:
"I HAVE TURNED MY THOUGHTS … TOWARDS CARRYING ON AN EXPEDITION AGAINST
THE INDIANS OF THE SIX NATIONS …."
"THE KIND OF WAR NECESSARY TO BE CARRIED ON AGAINST THE SAVAGES FOR THE MORE EFFECTUAL SECURITY OF OUR FRONTIER".
WASHINGTON, GEORGE.  (1732-1799).  First President of the United States (1789-1797).  Exceptional War-dated, Manuscript Letter Signed, "G. Washington", as Commander of the Continental forces. "Headquarters, Middle Brook, March 2, 1779."  Two full legal folio pages, [in the hand of Tench Tilghman].   To Brigadier General Porter. 
$225,000.00
Full Description