Displaying 1 - 1 of 1 items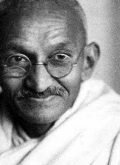 GANDHI  —  SPEAKING ON THE SALT RIOTS AND SOCIAL REVOLUTION IN INDIA!
GANDHI, MONHANDAS KARAMCHAND.  (1869-1948).  Considered the father of the Indian Independence movement;  created his concept of satyagraha, a non-violent way of protesting against injustices;  returned to India in 1914 to found and lead the Indian independence movement.   An exceedingly-scarce Autograph Letter Signed, "your sincere, old friend /M.K. Gandhi".    Two full pages, quarto, in pencil.  "Ahmedabad, 25th February [no year, but circa 1930].
$32,500.00
Full Description