Displaying 1 - 1 of 1 items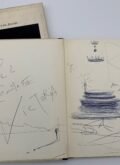 SALVADOR DALI  ~~ 
A WONDERFUL ILLUSTRATED PRESENTATION INSCRIPTION TO A COUNTESS WITH AN ELABORATE
TWO PAGE DRAWING DEPICTING A CROWN,
BIRTHDAY CAKE AND HUMAN FIGURE PENNED IN:
DALI / A STUDY OF HIS ART-IN-JEWELS
DALI, SALVADOR.  (1904-1989).  Spanish Catalan surrealist painter famous for the striking and bizarre images in his work. The book: 'DALI: A Study of His Art-in-Jewels / The Collection of the Owen Cheatham Foundation'.  67 pages, folio. Copyright 1959, The New York Graphics Society / Greenwich, Connecticut. Black cloth, gilt impressed spine, with white gilt impressed covers.  Original photo illustrated slip case.  First edition, thus.  Boldly inscribed by Dali on the inside front cover and blank front endpaper, creating a magnificent full 2 page spread illustration which he has drawn. 
$8500.00
Full Description