Displaying 1 - 1 of 1 items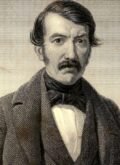 WRITTEN FROM THE INTERIOR OF AFRICA, DR. DAVID LIVINGSTONE
THANKS A YOUNG LADY FOR HER PRAYERS FOR HIS CONTINUED SUCCESS
AND SPEAKS OF HIS CONVERTING THE NATIVE AFRICAN POPULATION TO CHRISTIANITY:   
"PAUL IS ONE OF THE FIRST CONVERTS OF THE KURUMAN [TRIBE] AND LATELY JOINED US.  MELROSE HAS ALWAYS BEEN MY COMPANION A HARD WORKER & AN UPRIGHT MAN."
LIVINGSTONE, DAVID. (1813-1873) Pioneer medical missionary and African  explorer; best known for his explorations and having been 'found' by journalist Henry Stanley.  Important Partial Autograph Letter Signed, "David Livingston".
$6500.00
Full Description