Displaying 1 - 3 of 3 items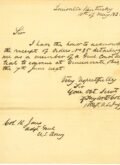 LIEUTENANT COLONEL ZACHARY TAYLOR

ACKNOWLEDGES ORDERS FOR HIM

TO TAKE PART IN A COURT MARTIAL

TO BE HELD IN CINCINNATI, OHIO
TAYLOR, ZACHARY.  (1784-1850).  Twelfth President of the United States (1849-1850); General on the American frontier and Mexican War hero; died in office after serving only 16 months.  Intriguing content, boldly written, early, Autograph Letter Signed, "Z. Taylor, Lt. Col. 1st Regiment U.S. Infantry".  Full page, quarto. 'Louisville, Kentucky, 10th of May 1826'. 
$2500.00
Full Description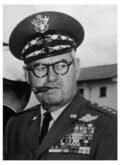 GENERAL CURTIS LEMAY ~~  HEADED THE BERLIN AIRLIFT & SOON TO BE HEAD OF THE STRATEGIC AIR COMMAND
LEMAY, CURTIS E. (1906-1990). Lieutenant General United States Air Force. Typed Letter Signed, "Curtis E. LeMay," on Headquarters Strategic Air Command Offutt Air Force Base Omaha, Nebraska letterhead. One page, quarto. No place. April 10, 1951.
$250.00
Full Description
THE MOST FAMOUS ONE-WORD REPLY OF WORLD WAR II:   
"NUTS!"
McAULIFFE, ANTHONY.  (1898-1975).  Brigadier General of the U.S. Army during World War II; commander of the 101st Airborne Division while defending Bastogne, Belgium, during the Battle of the Bulge in World War II, and is celebrated for his one-word reply to the German surrender ultimatum: "Nuts!"  Choice Autograph Sentiment Signed,  " 'Nuts', A.C. McAuliffe, General, U.S. Army (ret.)", on a 12mo. slip of paper.  [Approx 3 x 4 ½ inches].   In very fine condition.
$995.00
Full Description