Displaying 1 - 2 of 2 items
SIR HENRY ROWLEY BISHOP PENS THE MUSIC TO ACCOMPANY THE SCOTTISH POET, JOANNA BAILLIE'S: 'THE CHOUGH AND CROW TO ROOST ARE GONE'
BISHOP, SIR HENRY ROWLEY.  (1786-1855).  English conductor and composer.  Rarely seen, Autograph Musical Quotation Signed, "Henry R. Bishop: Knt. Prof. Mus. Lon".  One page, octavo.  London, March 21, 1854.  Bishop has penned 5 bars of music plus the lyrics from Scottish poet Joanna Baillie's :  THE CHOUGH AND CROW TO ROOST ARE GONE. 
$950.00
Full Description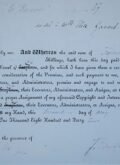 CHOPIN SELLS THE COPYRIGHTS TO HIS ~~ 
2nd GRANDE SONATA
AND HIS LA BERCEUSE
CHOPIN, FREDERIC.  (1810-1849).  Polish composer and pianist, noted for his lyric compositions for piano, including 55 mazurkas, 13 polonaises, 24 preludes, 27 etudes, 19 nocturnes, 4 ballades and 4 scherzos.  Remarkable and Very Rare Partly Printed Document Signed, "Frederic Chopin," in English.  One page, quarto.  Paris, May 2, 1845. 
$37,500.00
Full Description