Displaying 1 - 3 of 3 items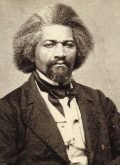 FREDERICK DOUGLASS SIGNED DOCUMENT
DOUGLASS, FREDERICK (1818-1895)  American abolitionist, editor, orator, author and statesman.  Partly-printed Document Signed  "Fredk Douglass,"  in ink, on the docketing panel of a 3 page "Deed" for a land transfer, between Joseph C. Hornblower and James M. Johnston, in his capacity as Recorder of Deeds for the District of Columbia.
$1500.00
Full Description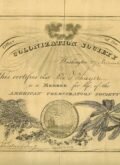 AMERICAN COLONIZATION SOCIETY MEMBERSHIP CERTIFICATE SIGNED

BY HENRY CLAY  ~~ 

ESTABLISHED BY HIM AND OTHERS FOR THE RESETTLEMENT OF FREED SLAVES TO LIBERIA
CLAY, HENRY.  (1777-1852).  American statesman; major promoter of the Missouri Compromise (1820) and the Compromise of 1850, both efforts to shield the American union from sectional discord over slavery.    Scarce, Partially-Printed Document Signed, "H. Clay" as president of the society.  November 27, 1841. One page,  heavy paper stock, oblong folio.  [approx 7 ½ x 12 inches].  
$2500.00
Full Description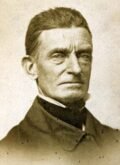 ABOLITIONIST JOHN BROWN  ~~  WRITES TO HIS BROTHER TO

ASSESS HIS LAND HOLDINGS IN OHIO
BROWN, JOHN.  (1800-1859).  American abolitionist.  Scarce, early, Autograph Letter Signed, "John Brown".  One full page, quarto.  Boston, June 3, 1839. 
$7500.00
Full Description