Displaying 1 - 3 of 3 items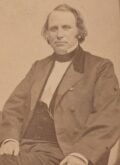 "I HAVE MADE MORE SPEECHES FOR OUR IDEAS OF EQUAL RIGHTS IN MORE STATES AND TO MORE PEOPLE THAN ANY MAN IN THIS COUNTRY"  –  HENRY WILSON
WILSON, HENRY (1812-1875).  Vice President of the United States under U.S. Grant, and a Senator from Massachusetts known for his strong anti-slavery positions; devoted himself to the destruction of 'Slave Power' [the political power of the slave-owning class]; authored a bill that outlawed slavery in Washington, D.C. and was responsible for incorporating African Americans in the Union Civil War effort.  Superb Autograph Letter Signed, "H. Wilson." Four very full pages, quarto. Natick, [Massachusetts].  October 7, 1870.
$1750.00
Full Description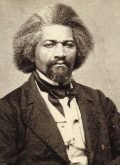 FREDERICK DOUGLASS SIGNED DOCUMENT
DOUGLASS, FREDERICK (1818-1895)  American abolitionist, editor, orator, author and statesman.  Partly-printed Document Signed  "Fredk Douglass,"  in ink, on the docketing panel of a 3 page "Deed" for a land transfer, between Joseph C. Hornblower and James M. Johnston, in his capacity as Recorder of Deeds for the District of Columbia.
$1500.00
Full Description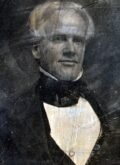 "STRIKE BUT HEAR"  —  A SCARCE LETTER FROM THE PEN OF THE AMERCIAN EDUCATIONAL REFORMER, HORACE MANN, ABOUT AN ARTICLE SUBMITTED TO HIS JOURNAL
MANN, HORACE.  (1796-1859).  American educational reformer; slavery abolitionist;  Whig politician elected to the United States House of Representatives (1848–1853);  President of Antioch College. Scarce Autograph Letter Signed, "Horace Mann".  1 ¼ pages, quarto.  West Newton, Massachusetts.  November 24, 1846.
$950.00
Full Description