Displaying 1 - 1 of 1 items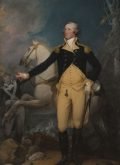 GEORGE WASHINGTON  —   AFTER DEFEATING THE BRITISH AT THE BATTLE OF PRINCETON,  WORRIES ABOUT THE LOSS OF SUPPLIES AND THE LANDING OF THE ENEMY:   
"IT IMPORTS US HIGHLY TO COLLECT A RESPECTABLE FORCE… FOR US TO SECURE…THE OBJECTS OF THE ENEMY'S ATTENTION"
WASHINGTON, GEORGE.  (1732-1799).  First President of the United States (1789-1797).  Important War-date Manuscript Letter Signed, "G. Washington", as Commander of the Continental forces.  Two pages, folio.  Morristown, New Jersey, May 7, 1777.  To General Parsons. 
$48,500.00
Full Description