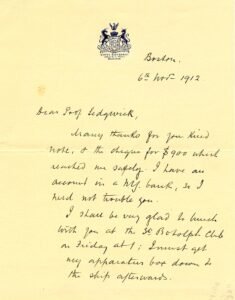 WILLIAM RAMSAY ~~  THE MAN WHO CHANGED THE PERIODIC TABLE WITH HIS DISCOVERY OF THE RARE NOBLE GASES
RAMSAY, WILLIAM (1852-1916). Scottish Chemist; Nobel Prize winner for Chemistry (1904); his discoveries added the noble gases, an entirely new family of chemical elements to the periodic table; predicted and discovered or was first to isolate every member of the group; created the world's very first neon light [by accident, when he activated an electric switch to investigate one of the new gases!].  Uncommon Autograph Letter Signed "William Ramsay".  1 ½ pages, small octavo. Boston, November 6, 1912. On 'Hotel Somerse't embossed stationary.  To Professor W. T. Sedgewick at Lowell Institute, Boston. Very fine condition.  With original stamped postal envelope with address fully in the hand of Ramsay.  The discoverer of the noble gases writes:
"Many thanks for your kind note, & the cheque for $900 which reached me safely. I have an account in a N.Y. bank, so I need not trouble you. I shall be very glad to lunch with you at the St. Botolph Club on Friday at 1.   I must get my apparatus box drawn to the ship afterwards. Lady Ramsay unites with me in kind regards, yours sincerely, William Ramsay"
A fine, boldly written letter by this Nobel prize winner.                   
$495.00