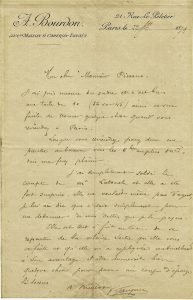 "I HAVE MEASURED THE FRAME SIZE AND IT IS A CANVAS OF 90 (56 X45),
THUS IT WILL BE EASY TO FIND SOMETHING WHEN YOU RETURN TO PARIS."
GAUGUIN, PAUL.  (1848-1903).  French painter.  Extremely scarce, and early Autograph Letter Signed, "P Gauguin," in French, on imprinted "A. Bourdon / avec Maison G. Caperon-Lanays" stationery.  One very full page, large octavo. "21 Rue Le Peletier. Paris".  February 22, 1879.  To fellow artist and mentor CAMILLE PISSARRO.  [Pissarro was arguably the Impressionists' father figure.  A decade or so older than most members of the movement, Pissarro contributed to all eight Impressionist exhibitions (from 1874 to 1886) and brought into the group three of its biggest stars: Paul Cézanne (1839-1906), Paul Gauguin (1848-1903), and Georges Seurat (1859-1891).]    Gauguin writes:
"My dear Mr. Pissarro,  I have measured the frame size and it is a canvas of 90 (56 x45), thus it will be easy to find something when you return to Paris.  When you come back, it would please me if you would stop by and pick me up at the office around five o'clock at the latest.  I have completely settled the account of Madame Latouche and she was greatly surprises;  she didn't even want any money.  I told her that it was simply to relieve myself of my debts that I was paying her.  She is going through complete repentance for the nasty way she walked out on you, and which she explained, naturally, to her own advantage – and she would give quite a lot to be able to wipe out the whole affair.  See you soon,  P. Gauguin"
Gauguin has written using a fine nib pen, and the accomplishment is a little light.  However the association of Gauguin writing to Pissarro, and the rarity of his letters, coupled with the fact that this letter is written by Gauguin at the age of 31, still several years before he would throw himself fully into the artists world, makes this a delightful addition to any collection of Impressionist Artist letters. 
$24,000.00