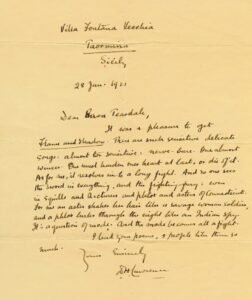 D.H. LAWRENCE TO SARA TEASDALE
ACKNOWLEDGING RECEIPT OF HER FLAME AND SHADOW  COLLECTION OF POETRY   —   "ONE MUST HARDEN ONES HEART AND LAST, OR DIE OF IT.  AS FOR ME,   IT RESOLVES IN TO A LONG FIGHT.    AND ONE SEES THE SWORD IN EVERYTHING"
LAWRENCE, D.H.  (1885-1930).  English novelist, poet and essayist.  Terrific Autograph Letter Signed, "D.H. Lawrence".  One full page, quarto.  "Villa Fontana Vecchia, Taormina, Sicily", January 28, 1921.  To Sara Teasdale, the American poet.  Very fine condition.  Accompanied by original envelope addressed to: "Sara Teasdale, c/o Messrs. Macmillan and Co., Book Publishers, New  York City, Stati Uniti", with three "Poste Italiane" stamps and postal cancellations.  Lawrence writes:
"It was a pleasure to get Flame and Shadow.  These are such sensitive delicate songs: almost too sensitive: nerve-bare.  One almost winces.  One must harden ones heart and last, or die of it.  As for me, it resolves in to a long fight.  And one sees the sword in everything, and the fighting-fury: even in squills and Areturus and phlox and asters of Connecticut.  For me an aster shakes her hair like a savage woman soldier, and a phlox lurks through the night like an Indian spy.  It's a question of mode.  And the mode becomes all a fight.  I loved your poems, and people like them so much.  Yours Sincerely, D.H. Lawrence."
Just a wonderful association, combined with great insightful commentary!
$6500.00