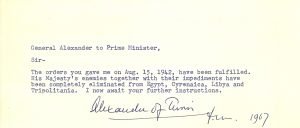 ALEXANDER, HAROLD, 1ST EARL OF TUNIS.   (1891-1969).  British field marshal.  Typed Souvenir Letter Signed, "Alexander of Tunis, F[ield] M[arshall] / 1967".   One page, oblong narrow octavo.  No place,  1967.  Very fine condition.  This is a faircopy message he sent to Sir Winston S. Churchill, Prime Minister of the U.K., in 1942, announcing the defeat of the Axis powers, and their withdrawal from their positions in North Africa.  Alexander writes:
"Sir—The orders you gave me on Aug. 15, 1942, have been fulfilled.  His Majesty's enemies together with their impediments have been completely eliminated from Egypt, Cyrenaica, Libya and Tripolitania.  I now await your further instructions.  Alexander of Tunis".
A great souvenir of WWII!
$950.00