JAMES MADISON  – AS PRESIDENT & JAMES MONORE  – AS SECRETARY OF STATE ~~ A BOLDLY SIGNED '1812' LAND GRANT ~~
MADISON, JAMES (1751-1836) Fourth President of the United States; hailed as the "Father of the Constitution" for his pivotal role in drafting and promoting the Constitution of the United States and the 'Bill of Right's; co-wrote 'The Federalist Papers'.  Partially-Printed Document Signed, "James Madison," as President.  One page, oblong folio, vellum. Washington. January 23, 1812. Boldly countersigned by JAMES MONROE (1758-1831). Founding Father and fifth President of the United States, as Secretary of State: "Jas. Monroe."   Large paper wafer, spread eagle Seal of State affixed at lower left.  The document reads, in part:
"JAMES MADISON, PRESIDENT OF THE UNITED STATES OF AMERICA … KNOW YE, that Abraham Giltner, of Bourbon County Ky having deposited in the Treasury a certificate of the Register of the land-office at Jeffersonville whereby it appears that he has made full payment for the Southwest quarter of Section number Thirty Six of Township number Two, North of the base line, in range number nine … of the Lands directed to be sold at Jeffersonville by the act of Congress, entitled 'An act providing for the sale of the Lands of the United States in the Territory north-west of the Ohio, and above the mouth of Kentucky river,' … Given at my hand in the City of Washington … James Madison … Jas Monroe."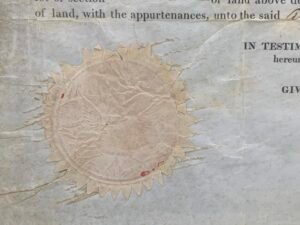 An unusual form of land grant, in that this one bears the imprinted, 'i.e.: spelled out' date of: "one thousand eight hundred and twelve [1812]".  Matted against a green mat board and framed in a simple wood frame [acceptable condition on frame]. The document is in very fine condition.
 $2250.00