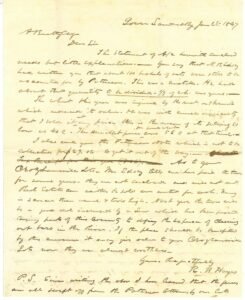 "MONEY IS SCARCER THAN USUAL AND TAXES HIGH."
RUTHERFORD B. HAYES OFFERS ADVICE AND COUNSEL AS A YOUNG ATTORNEY IN HIS HOMETOWN OF LOWER SANDUSKY, OHIO
HAYES, RUTHERFORD B.  (1822-1893).  Nineteenth President of the United States (1877-1881).  Exceptionally early Autograph Letter Signed twice; "R.B. Hayes" and "R.B.H."  Two pages, quarto.  Lower Sandusky, Ohio, January 25, 1847.  Very fine condition.  To A. Beatty Esq.  Hayes writes:
"Dear Sir, The statement of account herewith enclosed needs but little explanation.  You say that N.B. Eddy had written you that about 100 bushels of oats were still to be accounted for by Patterson.  This was a mistake — he had about that quantity to be divided — 1/3 of which was yours.  The wheat this year was injured…which reduced its value.  It was with much difficulty that I sold it at any price; this is the reason of its declining so low as 40 c.  The market price for summer wheat was 56 c at that time.  I also send you the Patterson note which is not to be collected for $29.06 to get it out of the way.  As to your Crop… lots — Mr. Eddy tells me he has paid the taxes for some years—they are not enclosed and will not rent.  Real estate can neither be sold nor rented for cash.  Money is scarcer than usual and taxes high.  Next year the taxes will be a good deal increased by a law which has been passed, taxing parts of this country to defray the expense of clearing out bars in the river.  If the place should be benefited by this measure it may give value to your Crop… now they are almost worthless.  Yours respectfully, R.B. Hayes.

P.S. Since writing the above I have learned that the fences are all swept off from the Patterson [lands]…this will occasion some extra expenses in rebuilding the fences.  If the old rails can be removed from below the expense will not be more than fifteen or twenty dollars.  The balance in my hands will perhaps pay the greater part.  At all counts I shall try to make the necessary arrangements with Patterson unless otherwise directed.  Yours etc. R.B.H."                                                   
Obtaining any letter of a historic personality, early in their career is, in our opinion, certainly a thing to take note of, and this letter written by Hayes at age 25 certainly falls into this category of 'extra-ordinary'. 
$2250.00