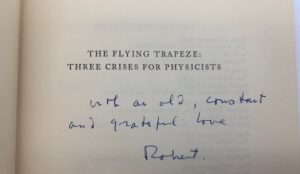 OPPENHEIMER TO LILIENTHAL
HIS BOOK: THE FLYING TRAPESE: THREE CRISES FOR THE PHYSICIST – INTIMATELY INSCRIBED:  "WITH AN OLD, CONSTANT AND GRATEFUL LOVE,  ROBERT".   
OPPENHEIMER, ROBERT J.  (1904 –1967)  American theoretical physicist; director of the Los Alamos Laboratory during World War II; credited as the "father of the atomic bomb" for his role in the Manhattan Project, the research and development project that was responsible for the first nuclear weapons.   His book:  The Flying Trapeze: Three Crises for the Physicist. 1964, Oxford University Press, London. Red cloth covered boards.  Octavo, 65 pages. Very fine condition.  Inscribed on half title page: "with an old, constant and grateful love,  Robert".    This was inscribed for David E. Lilienthal, who has signed the front endpaper: "David E. Lilientahl / Princeton / January 1965", indicating his ownership.  
DAVID E. LILIENTHAL.  (1899-1981) American businessman and government official, who was co-director (1933) and first chairman (1941) of the Tennessee Valley Authority (TVA) and first chairman of the Atomic Energy Commission (AEC).
JUST AN OUTSTANDING ASSOCIATION COPY —  IN ADDITION TO BEING AN EXCEEDINGLY RARE BOOK TO FIND, LET ALONE FINDING ONE THAT IS SIGNED, AND WITH THIS LEVEL OF ASSOCIATION,  ~~  MAKE THIS A 'MUST HAVE' FOR ANY SERIOUS COLLECTOR OF SCIENCE OR PHYSICS MATERIAL.                                                                                                                                                     
$6500.00