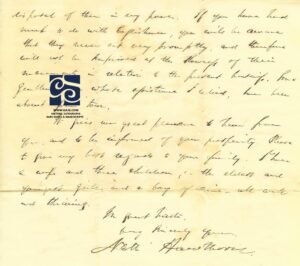 NATHANIEL HAWTHORNE 
AS U.S. CONSUL IN LIVERPOOL WRITES A FAMILY MEMBER THAT HE WILL AID IN PROMOTING LIEUTENANT MAURY'S NEW BOOK PIONEERING OCEANOGRAPHIC STUDIES 
AND NOTES: "IF YOU HAVE HAD MUCH TO DO WITH ENGLISHMEN, YOU WILL BE AWARE THAT THEY NEVER ACT VERY PROMPTLY AND THEREFORE WILL NOT BE SURPRISED AT THE SLOWNESS OF THEIR MOVEMENTS"
HAWTHORNE, NATHANIEL. (1804-1864). American novelist and short-story writer; authored: The Scarlet Letter (1850), The House of Seven Gables (1851) and Twice Told Tales (1837);  due to his friendship with President Franklin Pierce, Hawthorne was rewarded in 1853 with the position of United States consul in Liverpool shortly after the publication of Tanglewood Tales; the position was considered the most lucrative foreign service position at the time, second only to that of Ambassador to Great Britain.  Scarce and desirable Autograph Letter Signed, "Nath. Hawthorne", while serving as US Consul.  Nearly two full separate pages, quarto.   U. S. Consulate, Liverpool, June 8th, 1855.  To George Manning.  Hawthorne writes:
"My dear Kinsman: You must not suppose, from the long Interval between the date of your letter and of my reply, that I have forgotten your or that I am insensible to your kindness. But the business of my office is of so burdensome and miscellaneous a nature, that I have hardly time for any-thing beyond it.  I write, at present, chiefly to beg you to inform Lieutenant Maury that I have not neglected to pay all possible attention to his wishes, with a view to bringing his labors before the British public in the way most honorable to himself. For this purpose, I have communicated with several members of the American Chamber of Commerce, and other gentlemen, all of whom seem most favorably inclined. It appears to me very desirable that some copies of Mr Maury's pamphlet should be sent over here for distribution, and, if entrusted to me, I will make the best disposal of them in my power.  If you have had much do with Englishmen, you will be aware that they never act very promptly and therefore will not be surprised at the slowness of their movements in relation to the present business.  Some gentlemen, on whose assistance I relied, have been absent from town. It gives me great pleasure to hear from you, and to be informed of your prosperity. Please to give my best: regards to your family,  I have a wife and three children — the eldest and youngest girls, and a boy of nine – all well arid thriving. In great haste, Very sincerely yours,  Nath. Hawthorne".
This letter has multiple interesting angles and associations inherent in it.
The 'Lieutenant Maury' referred to in the letter is undoubtedly  Matthew Fontaine Maury (1806-1873), the noted American oceanographer and naval officer, who is considered a founder of modern oceanography; he wrote extensively on the subject, and his book, The Physical Geography of the Sea (1855), was the first comprehensive work on oceanography to be published, and is referenced herein.
Hawthorne's mother, was Elizabeth C. Manning, and upon the death of his father [Captain Nathaniel Hathorne, (note spelling without the 'w') at sea] in 1801, Hawthorne and his two sisters went to live in Hawthorne's grandmother's  (Miriam Manning) house.  It is also interesting to note that in the 1680's an incestuous scandal surrounded the Manning family, thus possibly giving rise to Hawthorne's plot reflected in The Scarlet Letter!
Just a fabulous letter for the Hawthorne or literature collector seeking a letter of some substance.                                                               
$9300.00