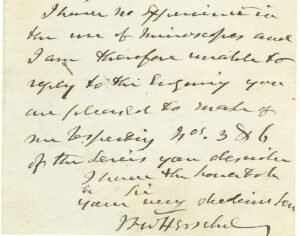 THE NOTED ASTRONOMER REVEALS THAT: "I HAVE NO EXPERIENCE IN THE USE OF MICROSCOPES"
HERSCHEL, SIR JOHN FREDERICK WILLIAM. (1792-1871). British mathematician, astronomer, and inventor; known for his discoveries related to the moons of Saturn and Uranus and for his pioneering work in early photographic processes, including coining the word 'photography' itself;   President of the Royal Astronomical Society.  Scarce Autograph Letter Signed "J. F. W. Herschel". One page, octavo. No place, no date.   Herschel writes:
"I am honoured with your note of the 21st inst with the Brochure I have no experience in the use of microscopes and I am therefore unable to reply to the enquiring you are pleased to make of me respecting Nos. 3 & 6 of the Series you desire…–I have have the honour to be your very obedient serv[t],  J.F. W. Herschel."
Nice content in a full one page, very displayable format.                 
$995.00