SUPERB SILVER ALBUMIN PHOTOGRAPH OF BRITISH NAVAL SCENE PAINTER:   CLARKSON STANFIELD  ~~  BY MAULL AND POLYBANK
STANFIELD, CLARKSON FREDERICK.  (1793–1867) Prominent English painter who was best known for his large-scale paintings of dramatic marine subjects and landscapes.  Simply stunning large silver albumin photograph portrait of Stanfield standing with one leg bent at the knee and raised, possibly resting on a stool or box,  holding a wooden board with several sheets of paper propped up against his leg and a paintbrush in his right hand, raised above it as if to begin painting.  Image by the Maull & Polyblank's London photographic studio, with their imprint in gold under his image. They were founded in 1854. Their most notable body of work, Photographic Portraits of Living Celebrities, was published from 1856 to 1859, [from which our image dates].  It included forty individual portraits with accompanying biographies, issued to subscribers over a period of forty-one months and eventually bound in a single volume, a practice popular in the 1850s and 1860s. The studio specialized in portraits of noted individuals, which were frequently published as engravings in the Illustrated London News.  Henry Maull later formed two other partnerships, Maull & Co. in 1866 and Maull & Fox in 1879, both in London. No biographical information has come to light on the partner known only as Polyblank. [Getty.edu] Original price of 5 shillings (which was a huge sum in 1858). Accompanied by original wrapper and 2 page biographical statement of Stanfield written by E. Walford, of the same size and quality.  In near mint condition, and in our experience, exceedingly scarce and rarely encountered in this condition. 
 $950.00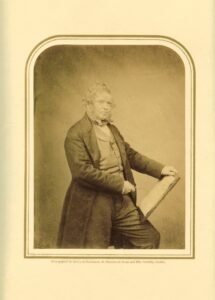 Clarkson Stanfield, Esq., R.A.
Artist/Maker:  Maull & Polyblank (British, founded 1854, dissolved 1865)
Date: negative about 1858; print November 1858
Medium: Albumen silver print
Dimensions: Image: (7 3/4× 5 3/4 in.)
Mount: (12 × 10 in.)
Place: London, England (Place Created)
Inscription(s):  (Recto, mount) lower center, printed in gold ink: "Photographed by MAULL & POLYBLANK, 55 Gracechurch Street and 187A Piccadilly, London."