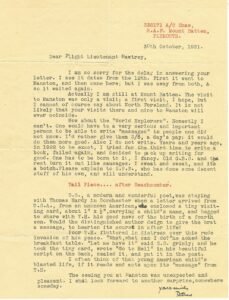 "I DO NOT WRITE.  YEARS AND YEARS AGO, IN 1922 TO BE EXACT,  I TRIED FOR THE THIRD TIME TO WRITE A BOOK, FAILED AGAIN, AND DECIDED TO PACK UP WRITING FOR GOOD.  ONE HAS TO BE BORN TO IT, I FANCY.   OLD G.B.S. AND THE REST TURN IT OUT LIKE SAUSAGES.  I SWEAT AND SWEAT…"
LAWRENCE, T(HOMAS) E(DWARD) [LAWRENCE OF ARABIA].  (1888-1935). British adventurer, soldier and author.  Typed Letter Signed, "Yours sincerely, T.E. Shaw".  One full page, quarto.  "R.A.F. Mount Batten, Plymouth", October 30, 1931.  Very fine condition.  To Flight Lieutenant John G. Hawtrey.  Accompanied by two letters from Hawtrey to British poet Sigfried Sassoon, sending him Lawrence's letter, and giving the back ground story of how all the events mentioned came to fruition. Lawrence writes:
"Dear Flight Lieutenant Hawtrey, I am so sorry for the delay in answering your letter.  I see it dates from the 12th.  First it went to Manston, and then came here; but I was away from both, and so it waited again.  Actually I am still at Mount Batten.  The visit to Manston was only a visit; a first visit, I hope, but I cannot of course say about North Foreland.  It is not likely that your visits there and mine to Manston will ever coincide. 

Now about the 'World Explorers'.  Honestly I can't.  One would have to [be] a very serious and important person to be able to write 'messages' to people one did not know.  I'd rather give them 3/5, a day's pay: it would do them more good.  Also I do not write.  Years and years ago, in 1922 to be exact, I tried for the third time to write a book, failed again, and decided to pack up writing for good.  One has to be born to it, I fancy.  Old G.B.S. and the rest turn it out like sausages.  I sweat and sweat, and it's a botch.  Please explain to S.P.B., who has done some decent stuff of his own, and will understand. 

Tail Piece…after Beachcomber:

S[iegfried] S[assoon], a modern and wonderful poet, was staying with Thomas Hardy in Dorchester when a letter arrived from U.S.A., from an unknown American, who enclosed a tiny visiting card, about 1" by ½", carrying a child's name, and begged to share with T.H. his good news of the birth of a fourth son.  Would the distinguished author deign to give the brat a message, to hearten its course in life? 

Poor T.H. fluttered in distress over this rude invasion of his peace.  'What, what can I do?' he asked the breakfast table.  'Let me have it' said S.S. grimly; and he took the tiny card, wrote 'Go to Hell' in his beautiful script on the back, sealed it, and put it in the post.

I often think of that young American child's blasted life, if it reads and acts upon its 'message' from T.H. 

The seeing you at Manston was unexpected and pleasant.  I shall look forward to another surprise, somewhere someday.  Yours sincerely, T.E. Shaw".    
A simply superb grouping., and worthy of inclusion in the best of literary collections, or a highlight inclusion for the Lawrence specialist.          
$7500.00