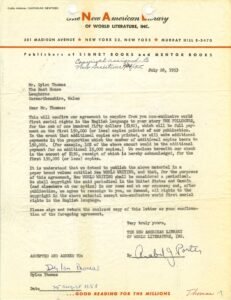 DYLAN THOMAS SIGNED AGREEMENT
FOR THE SALE OF HIS: 'THE FOLLOWERS', WHICH WAS TO BE PUBLISHED IN BOOK FORM AS: 'ADVENTURES IN THE SKIN TRADE AND OTHER STORIES' AFTER HIS DEATH IN 1955
THOMAS, DYLAN.  (1914 – 1953).  Welsh poet and prose writer whose works include radio broadcasts of: 'A Child's Christmas in Wales' and 'Portrait of the Artist as a Young Dog'; the poem 'Do not go gentle into that good night';  his writings are known for their comic exuberance, lilt, and evocative desolation; his personal life, punctuated by reckless bouts of drinking; was wildly popular in his lifetime.  Scarce Agreement Signed: "Dylan Thomas", being his acknowledgement at the conclusion of a Typed [carbon] Letter Signed to him from the 'American Library of World Literature, Inc.'  One very full page, New York,  August 25, 1953. [just 3 months before is death.]  The letter to which Thomas affixes his signature reads:
"This will confirm our agreement to acquire from you non-exclusive world first serial rights in the English language to your story THE FOLLOWERS, for the sum of one hundred and fifty dollars ($150), which will be full payment on the first 150,000 (or less) copies printed of our publication.  In the event additional copies are printed, we will make additional payments in the proportion which the number of additional copies bears to 150,000.  (For example, 10% of the above amount would be the additional payment for an additional 5,000 copies)  We enclose  herewith our check in the amount of $150, receipt of which is hereby acknowledged…."
The letter goes on to detail that they intend to publish the piece in a volume to be entitled new WORLD WRITING,…and that they will reassign  to Thomas the copyright of the material, upon his application to them after their publication is actually published.  Notation at top center states: 'Copyright assigned to New Directions 2/24/55', which was after his death, and was to become: Adventures in the Skin Trade and other stories' (1955).  Signed Dylan Thomas contracts concerning any of his published works are uncommon.
$4500.00