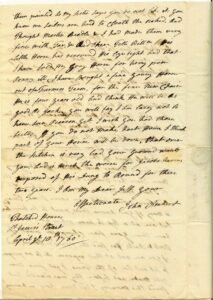 A FINE LETTER WRITTEN TO JEFFERY AMHERST, ONE OF THE BRITISH OFFICERS RESPONSIBLE FOR THE DISTRIBUTION OF SMALL-POX INFECTED BLANKETS TO THE NATIVE AMERICANS DURING THE PONTIAC REBELLION, CONCERNING THE VACCINATION OF ENGLISHMEN AGAINST THE DISEASE
AMHERST, JOHN (1718- 1778). Brother of Lord Jeffrey Amherst, Admiral in the British Navy who went on to serve as Commander-in-Chief, Plymouth. Uncommon Autograph Letter Signed, "John Amherst." Two very full pages, large quarto. "Thatched House, St. James Street, [London] April 10, 1760". Very fine condition. To his brother JEFFERY AMHERST, 1ST BARON AMHERST (1717-1797).  British Army officer, Commander-in- Chief of the Forces, and the first British Governor General of the Territories that became Canada.  John Amherst writes to his brother, whom he addresses lovingly as: "My Dear Jeff':
"I left my sister well this morning and shall return to her a Tuesday or Wednesday being come to town to look for money to pay Mr. Austin. For I believe it will be to [sic] little purpose to wait on Lt. On – tho I shall not fail to leave my name with his Porter, Miss Dallinson is to be with my sister for sometime; the squire[?] and his mother comes to London a Monday, He having taken it into his head to be inoculated for the small pox. The town news you will from Robinson but will recollect as of the country as the small time before dinner will admit off. The young mare I have had finished & a fine creature she is, I have ordered her shoes to be taking off and turned out until you come home. There is many of your America Trees want to be transplanted but are at a loss to know where you would want them. Your fine clump for want of posts and rails has fed the cows & horses and if your are not at that expense its to no purpose to set out any of the trees.  I got four new gates made not before they was wanted, but found this morning I had done rong [sic], in having them painted. As my sister says you do not like it. You know we sailors are used to clothe the naked, and thought master Beadle + I have made them very fine with tar and red oaker. Tell William his lillie horse has recovered his eyesight and that I have sold my gray horse for being poor pony ill I have bought a fine young horse out of farmer's Team, for the fine new chain. He is four years old, I think he will be as good as Jack. You will say I am lazy not to have seen Pearson yet I wish you had those fields, If you do not make haste home I think part of your house will be down. That over the kitchen is very bad. Your groom wants you but is much the worse for Jacobs having disposed of his dung to round for this two years. I am my Dear Jeff your affectionate John Amherst".
JEFFERY AMHERST is best known for his successful service during the French and Indian War, during which conflict he conquered Louisbourg, Quebec City, and Montreal. Subsequently, during the Pontiac Rebellion, Amherst agreed to the distribution of small pox infected blankets among the Native Americas, the only recorded case of British soldiers giving smallpox-contaminated blankets to Native Americans. His younger brother JOHN AMHERST captained a number of Royal Navy ships during his military career.  John is best remembered for commanding the HMS Arrogant during the Capture of Belle Ile in 1761 and for running the HMS Mars aground in Halifax harbor in 1755, a mistake that saw Amherst court-martialed but eventually acquitted.
$1250.00