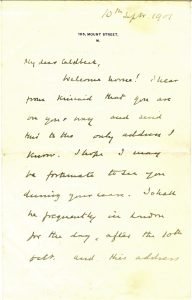 CHURCHILL, SIR WINSTON S.  (1874-1965).  British politician and Prime Minister of the United Kingdom (1940-1945, 1951-1955).  Early Autograph Letter Signed, "Winston S. Churchill", on his imprinted 105, Mount Street, W. stationery.  Two pages, octavo.  London, September 10, 1901.  Very fine condition.  To "My dear Caldbeck".  Churchill writes:
"Welcome home!  I hear from Kincaid that you are on your way and send this to the only address I know.  I hope I may be fortunate to see you during your leave.  I shall be frequently in London for the day, after the 10th October and this address will always find me.  Yours very sincerely, Winston S. Churchill".   
A boldly penned, early example, at the start of Churchill's political career. 
$3800.00