Displaying 1 - 2 of 2 items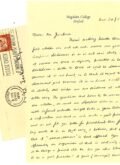 "THERE IS NOTHING HARDER THAN TO FIND WHETHER AN ACT WHICH WOULD CAUSE ONE GREAT EMPERICAL DISTRESSES IS OR IS NOT ONES DUTY.  FOR OF COURSE AN ERROR IS EQUALLY POSSIBLE IN BOTH DIRECTIONS:  EITHER TO THINK IT CAN'T BE DEMANDED BECAUSE IT IS SO HARD, AS TO THINK IT MUST DEMANDED JUST BECAUSE IT IS SO HARD"  –  C.S. LEWIS
LEWIS, C.S.  [IN FULL: CLIVE STAPLES LEWIS].  1898-1963.   Irish-born scholar, novelist, and author of about 40 books, many of them on Christian apologetics;  best known for his: The Chronicles of Narnia, a series of seven children's books that have become classics of fantasy literature;  friend and associate of J.R.R. Tolkien.    Superb, scarce, lengthy, and apparently unpublished Autograph Letter Signed, "C.S. Lewis", on imprinted Magdalen College / Oxford stationery.  Two very full pages, octavo.  "Magdalen College, Oxford"  November 20, 1953. 
$20,000.00
Full Description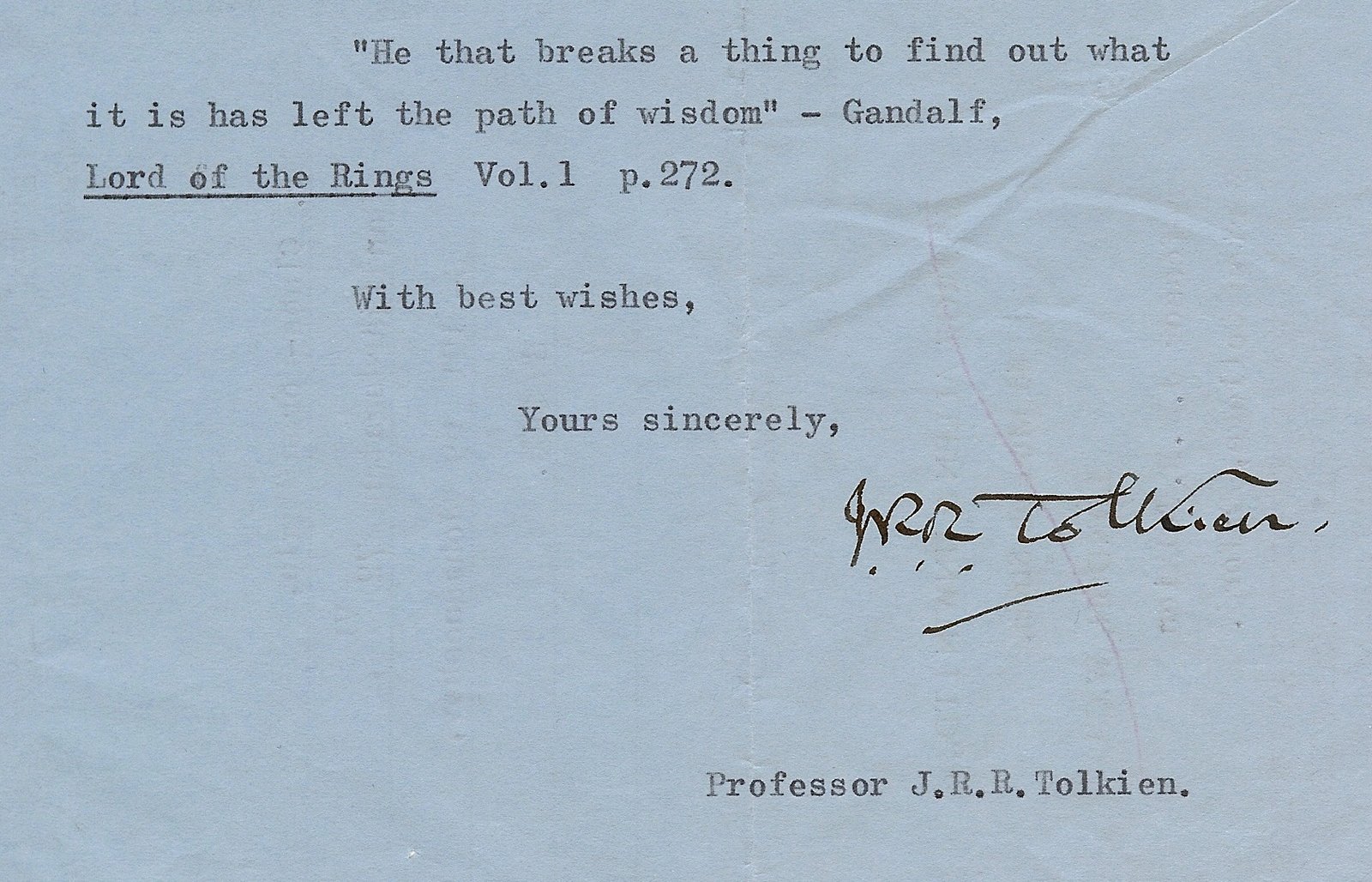 TOLKIEN QUOTES HIS CHARACTER, GANDALF: 
"HE THAT BREAKS A THING
TO FIND OUT WHAT IT IS
HAS LEFT THE PATH OF WISDOM'  – 
GANDALF,  LORD OF THE RINGS."
TOLKIEN, J(OHN) R(ONALD) R(EUEL).  (1892-1973). South African-born British university professor, medieval scholar, philologist and writer of fantasies.  Typed Letter Signed, "J.R.R. Tolkien" on imprinted "George Allen & Unwin Ltd /Book Publishers" stationery.  One page, quarto.  "Merton College, Oxford,  18 January 1973. 
$18,500.00
Full Description