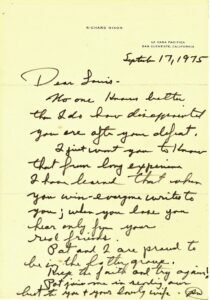 RICHARD NIXON LAMENTS:  "WHEN YOU WIN EVERYONE WRITES TO YOU; WHEN YOU LOSE YOU HEAR ONLY FROM YOUR REAL FRIENDS"
NIXON, RICHARD M. (1913-94). Thirty-seventh President of the U.S. (1969-74). Scarce and enlightening Autograph Letter Signed with his monograph "RN", on his name-imprinted stationery. One full page, quarto. La Casa, Pacifica, San Clemente, California, September 17, 1975. Very fine condition, with accompanying "Air Mail" stamped envelope with printed Richard Nixon frank. To New Hampshire Senator Louis Wyman after his senatorial defeat in what was the longest election contest in United States history.  Nixon writes.
"No one knows better than I do how disappointed you are after defeat. I just want you to know that from long experience I have learned that when you win everyone writes to you; when you lose you hear only from your real friends.  Pat and I are proud to be in the latter group.  Keep the faith and try again!  Pat joins me in sending our best to you + your lovely wife.  RN"
On August 8, 1974, President Richard M. Nixon announced his intention to become the first president in American history to resign his office due to the impeachment proceedings that were underway against him for his involvement in the Watergate affair.  Nixon then retreated to his California residence in San Clemente, where he was largely a recluse, while he worked on his memoirs.  The Nixon's later sold this house in the 1980's and moved to Park Ridge, NJ.  In the intervening years, Nixon slowly remerged into the public eye.  However, any full holograph material from his pen in the months after his resignation is exceedingly rare, and this letter with his honest reflection is a most remarkable revelation of political 'truths' indeed!  A superb letter for the presidential collector!           
$7500.00