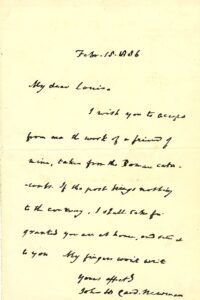 "I WISH YOU TO ACCEPT FROM ME THE WORK…TAKEN FROM THE ROMAN CATACOMBS".
NEWMAN, JOHN HENRY CARDINAL.  (1801-1890).  English clergyman, who was leader of the Oxford movement, and Cardinal after his conversion to the Roman Catholic church.  Scarce Autograph Letter Signed, "John H. Card. Newman".  One full page, octavo.  Birmingham, England, February 18, 1886.  Very fine condition.  Accompanied by original address leaf cut from the envelope, addressed to "Miss Deans, 20 Lion Hill, Bath",  in Newman's holograph.  Purple one-penny stamp in upper right-hand corner and postal cancellations.  Newman writes: 
"My dear Louise, I wish you to accept from me the work of a friend of mine, taken from the Roman catacombs.  If the post brings nothing to the contrary, I shall take for granted you are at home, and send it to you.  My fingers won't write.  Yours affectionately, John H. Card. Newman".   
     A  fine one page example, bearing his full signature. 
$2400.00