Displaying 29 - 31 of 31 items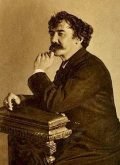 JAMES ABBOTT MCNEILL WHISTLER GRACEFULLY ACCEPTS AN INVITATION 
WHISTLER, JAMES  ABBOTT MCNEILL (1834-1903)  American Artist, who exerted a profound influence on his contemporaries and on the course of American art.   Autograph Note Signed  "J. McNeill Whistler".  One page, oblong octavo. No date, no place.
$795.00
Full Description
VERDI PENS A NOTE ON HIS NAME IMPRINTED CALLING CARD
VERDI, GIUSEPPE. (1813-1901)  Italian composer.  Attractive Autograph Note Signed, "G. Verdi", in Italian, on his personal imprinted calling card.  
$1750.00
Full Description
THE ARTIST WHO WAS RESPONSIBLE FOR THE CREATION OF THE 'GIBSON GIRL'
GIBSON, CHARLES DANA.  (1867-1944).  American illustrator; best known for his creation of the 'Gibson Girl', an iconic representation of the beautiful and independent Euro-American woman.  Autograph Letter Signed, "C.D. Gibson", on imprinted Life letterhead stationery.  One full page, quarto.
$250.00
Full Description