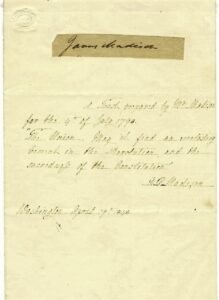 DOLLEY MADISON RECALLS JAMES MADISON'S TOAST ON THE ANNIVERSARY OF THE DECLARATION OF INDEPENCENCE: "THE UNION. MAY IT FIND AN EVERLASTING CEMENT IN THE REVOLUTION, AND THE SACREDNESS OF THE CONSTITUTION."
MADISON, DOLLEY PAINE. (1768-1849). First lady. Wonderful Autograph Sentiment Signed, "D.P. Madison". One page, octavo. Washington, April 19, 1848.  Dolley's accomplishment, slightly light, else fine.  At top of page is affixed a clipped Signature of James Madison.  Dolley Madison writes:
"A toast proposed by Mr. Madison for the 4th of July 1798: The Union. May it find an everlasting cement in the Revolution, and the sacredness of the Constitution. D.P. Madison".
Now, just ask yourself: how truly superb is that? Just a great piece of Americana, from a legendary first lady, quoting her husband, and alluding to two of our founding documents with extreme reverence!
$9500.00